Enter your ZIP Code to get insurance quotes in your area
Nationwide Roadside Assistance vs. AAA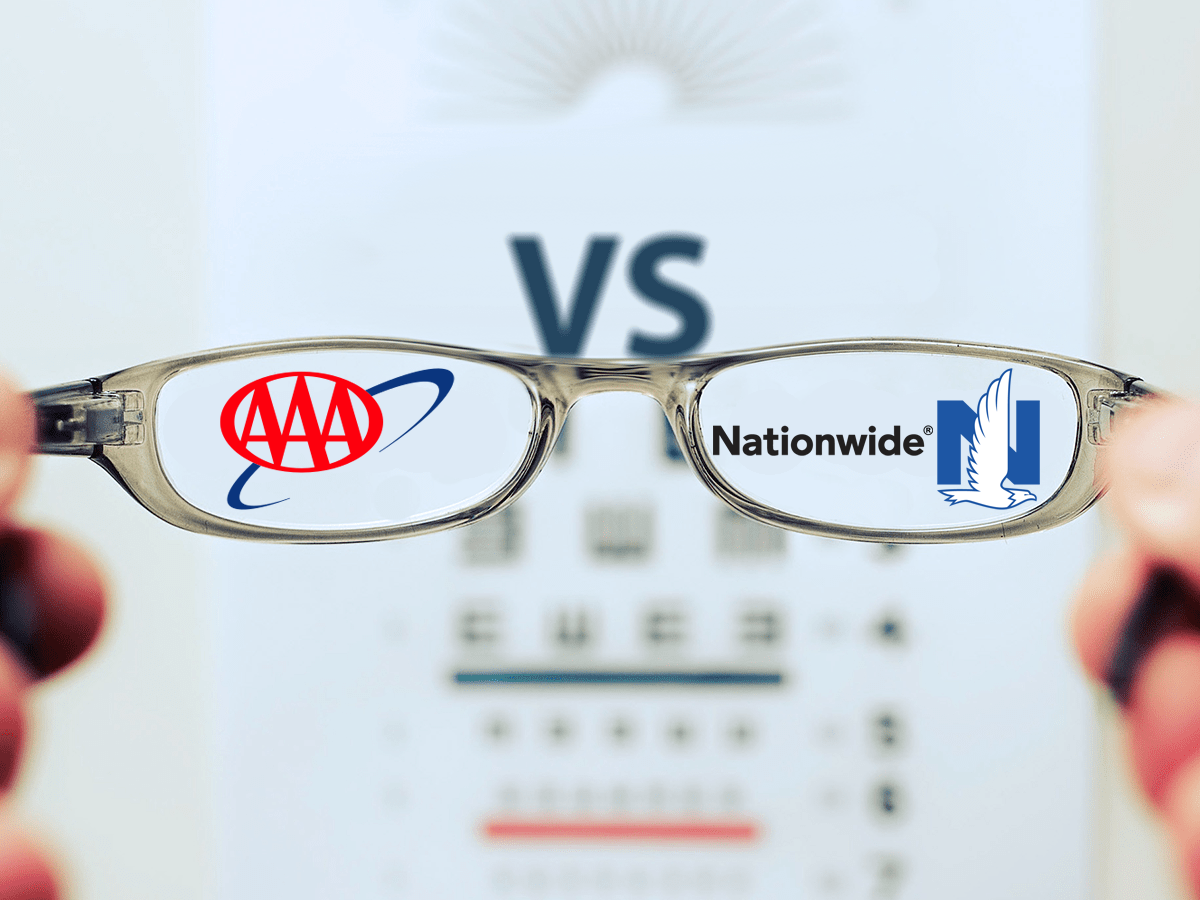 It would be very nice if cars worked perfectly one hundred per cent of the times. But cars are complicated machines and human beings are fallible creatures. Or, to put it differently cars can break down, often at the most inconvenient times possible, and people often lose their car keys. In addition, hitting a pothole or running over a sharp object can give you a flat tire. Car batteries do not last a lifetime. The average life of one is between 2 and 5 years. A dead battery will leave your unable to move your vehicle. It's not unheard of for a motorist to not pay sufficient attention to the fuel gauge and then find themselves stranded when their car runs out of gas. And unless you break down close to home or can find help to push your disabled vehicle to a service station, you'll need to be towed. And older cars have been estimated to be four times more likely to breakdown than newer vehicles.
So, that's where Roadside Assistance comes in. Roadside Assistance is a special type of automobile related insurance that helps you out if your vehicle is broken down or incapacitated. It can assist you if you find yourself locked out of your car or stranded on the side of a highway, a dangerous situation. Roadside assistance will help cover the costs of getting your disabled vehicle towed. And towing can be an expensive proposition. It is estimated that a single tow of five miles can cost up to $125.
As we mentioned, being broken down on the shoulder of a bust highway, or stranded without your car keys in a darkened parking lot can be a bit dangerous. With roadside assistance coverage you can get help rather quickly.
The motorist who want to acquire roadside assistance has choices. Many auto insurance providers have roadside assistance options as an endorsement or rider you to your standard policy for an additional price. Or you can opt to look at some organizations that specialize in providing roadside assistance.
Rates by age
| | | |
| --- | --- | --- |
| Age bracket | Auto Club (AAA) avg. annual premium | Nationwide avg. annual premium |
| Teens | $10,256 | $3,624 |
| 20s | $4,644 | $1,582 |
| 30s | $3,248 | $1,582 |
| 40s | $3,195 | $1,151 |
| 50s | $3,083 | $1,114 |
| 60s | $2,887 | $1,028 |
All About Nationwide Roadside Assistance
Nationwide Mutual Insurance Company is one of the largest insurance companies in the business. The ninety-four year old company is headquartered in Columbus Ohio and reports annual revenue of almost $50 billion dollars and annual net income of over $500 million. Known to consumers for their catchy jingle sung by famed football quarterback Peyton Manning, Julia Roberts, and Brad Paisley among others, the company provides a wide range of insurance products to the American public. They provide property, casualty, and life insurance products as well as asset management services and other investment products. One of their adjunct auto insurance products is roadside assistance which, as the name implies will aid member motorists who are unable to operate their vehicles.
Nationwide Plans
Nationwide offers two levels of Roadside Assistance. A basic package that covers towing up to 15 miles, locksmith services, battery jumping and even extraction from a ditch. Their Roadside Plus service covers you for up to a 100 mile tow and other benefits. The Plus option will also provide you some limited reimbursement of expenses if your disabled vehicle interrupts a trip or if have broken down more than 100 miles from your home. Explore your policy for the additional benefits and discounts you nay receive by adding Roadside assistance to your existing policy
All About AAA Roadside Assistance
The Automobile Association of America is a nonprofit federation of motor clubs founded in 1902 in Chicago as an advocacy group for enthusiasts of the then new technology: cars. The group was a pioneer in proving maps of roads suitable for cars and has been active in conducting automobile safety studies. AAA provides a variety of services. It will still provide maps, and even customized maps, for its members. It has travel guide books and travel discounts available to its members. Perhaps it's best known service is it's ling standing roadside assistance program.
AAA Plans
AAA offers three tiers of roadside assistance membership Basic, Plus and Premier. With Basic coverage, you cab receive up to 4 assistance calls per year and towing coverage of up to three miles. You also get assistance for lockouts, gas delivery, battery jump starts, and assistance with flat tires. The Plus coverage gives you free towing up to 100 miles, trip interruption reimbursements and other benefits. The Premium service covers towing up to 200 miles and has higher interrupted trip reimbursements. IN addition, the Premium service will cover lockout calls for your home and will provide a free one0day car rental should your car need to be towed.
Discounts
| | | |
| --- | --- | --- |
| Discount Type | AAA | Nationwide |
| Farm Vehicle Discount | up to 59% | -- |
| Student Away at School Discount | up to 30% | -- |
| teenSMART Discount | up to 24% | -- |
| Good Driver Discount | up to 20% | up to 10% |
| Anti-Theft Device Discount | up to 17% | up to 5% |
| Good Student Discount | up to 15% | up to 15% |
| Multiple Vehicle Discount | up to 13% | up to 20% |
| Multiple Policy Discount | up to 12% | up to 25% |
| Advance shopper discount | Varies | -- |
| New Car Discount | up to 10% | -- |
| Good Credit Discount | up to 10% | -- |
| Paid in full discount | up to 8% | -- |
| Loyalty Discount | up to 5% | -- |
| Organization Discount | up to 5% | up to 10% |
| Current insurance discount | up to 5% | -- |
| Original Owner Discount | Varies | -- |
| Low Mileage Discount | Varies | -- |
| Affinity group discount | Varies | Varies |
| Home Owner Discount | Varies | -- |
| Driving training discount | Varies | -- |
| Preferred payment discount | -- | Varies |
| Family Discount | -- | up to 25% |
| Farm Bureau Discount | -- | up to 10% |
| Defensive Driver Discount | -- | up to 10% |
| Accident Free Discount | -- | Varies |
| Paperless documents discount | -- | Varies |
| Driving Habits Discount | -- | Varies |
| Accident Forgiveness | -- | Varies |
Which Is Better?
If you are already a Nationwide policy holder, explore whether adding Roadside assistance will trigger other benefits. AA is a well known, trusted brand for roadside assistance, and they also offer auto insurance as well. The smart consumer will look for no cost no obligation quotes and see which one best needs their vehicular needs and which best suits your wallet. At Genral.com we can help. Our web based tool is designed to get you quotes quickly and easily to help you save money.