Enter your ZIP Code to get insurance quotes in your area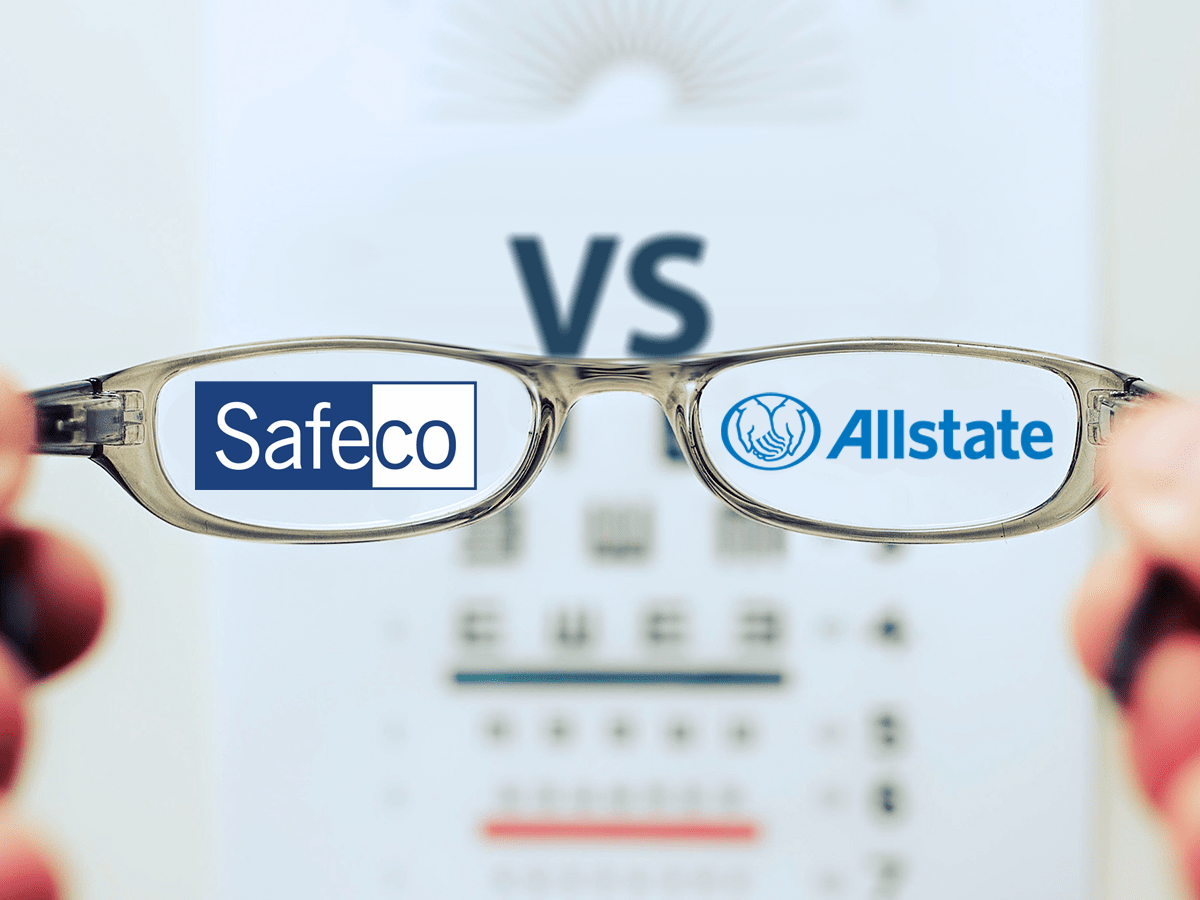 Allstate and Safeco are both popular insurance companies that are known for providing high-quality policies in most regions of the United States. Knowing the details of each company, how they operate, and the kind of clients they are best suited for is important when choosing an insurance provider. Continue reading below to learn more about how Safeco and Allstate operate, and which company may be right for your situation. Keep in mind that different companies use different formulas to determine rates, so you will want to get multiple quotes as you are making a decision.
Each person has different risks, and uses their vehicle in different ways. Here, you can compare car insurance plans, rates, and more. Whether you are looking to buy full coverage or are just looking for the minimum limits required by law, there are many options awaiting you. Take a look.
Insurance rates by age
| | | |
| --- | --- | --- |
| Age tier | Allstate avg. annual premium | safeco avg. annual premium |
| Teens | $6,442 | $7,765 |
| 20s | $2,636 | $2,566 |
| 30s | $1,920 | $2,566 |
| 40s | $1,912 | $2,128 |
| 50s | $1,893 | $1,745 |
| 60s | $1,768 | $1,687 |
All About Safeco
Founded initially as the General Insurance Company of America in 1923, this Seattle-based insurance company rebranded in 1953 to become Safeco. Since its founding, Safeco has slowly expanded its network, offering more services in more states across the country.
In 2008, Liberty Mutual bought Safeco. As a member of the Liberty Mutual Insurance network, Safeco maintains its more localized services and independent agents with the backing of the larger company, giving its customers the best of both worlds.
Safeco is generally seen as a good option for people who drive less than 8,000 miles per year, or who are young and looking for lower costs. People who enjoy online services such as filing claims online may want to look elsewhere. The company has a lot of strengths, and provides some discounts to help people save even more money.
Safeco Discounts And Savings
Like most auto insurance companies, Safeco offers a standard array of auto insurance coverage options, including personal injury protection coverage, liability coverage, rental car reimbursement coverage, and uninsured motorist coverage. Safeco also offers services not offered many places, such as a "valet" service that will drive your vehicle to an authorized repair shop for you after an accident, and a RightTrack program that tracks your driving and offers discounts based on your driving habits.
Safeco also has an auto glass repair and replacement program, and an accident forgiveness program that will reimburse up to $10,000 for the first accident. Safeco values customer loyalty, offering a diminishing deductible that is reduced by $100 every year the policy is renewed, capped at $500 at five years. This can offer additional peace of mind in case an accident occurs.
Other discounts that Safeco offers include good student discounts, premium paid in full discounts, anti-theft device savings, homeownership discounts, multiple auto discounts, low mileage discounts, accident prevention education course completion discounts, and home and auto bundling discounts.
All About Allstate
Founded in 1931 in Illinois, Allstate has grown over the course of eighty years to become one of the largest and most well-known names in the United States insurance industry. Despite being well known, it's not often the first option for most drivers, due to higher than average premiums and fairly average customer service.
Allstate is generally seen as a good auto insurance provider for drivers who want an extensive and knowledgeable network of agents for personal service, and who are looking to take advantage of multiple discounts on premiums. If you are less interested in having an agent or want a low base rate without taking the discounts into account, Allstate might not be the best provider.
Allstate Discounts And Savings
Allstate offers the standard coverage, including liability coverage, physical damage coverage, and uninsured motorist coverage. They also offer optional coverage like comprehensive insurance plans and collision insurance.
Allstate also offers many unique coverage choices, like gap insurance, rental reimbursement, pet damage, locksmith services, rideshare coverage, roadside assistance, and customer parts and replacement coverage.
Allstate is known for its discounts. Among the discounts offered by Allstate, you can find new vehicle discounts, telematics discounts, pay in full discounts, advanced purchase discounts, discounts for green vehicles, driver training discounts, discounts for students, defensive driver discount, airbag discounts, anti-lock brake discounts, anti-theft discounts, multiple policy discounts, and good student discounts.
Comparing Car Insurance Rates
The cost of insuring your vehicle can vary significantly due to a number of factors, including age, make and model of your car, credit history, and accident history. While Safeco is generally less expensive than Allstate, Allstate also has strengths. The average yearly premium cost for Safeco comes in at $1,970, while the average yearly premium cost for Allstate is $2,020.
Allstate may be a better option depending on your credit history. If your credit score is on the low side, Allstate's average premium costs could be thousands of dollars lower for you.
If your driving history is poor, though, Safeco may be a better option. Drivers with DUIs see an average yearly premium of $2,800, while Allstate's average is $3,640. For those with at-fault accident histories with damages of more than $1,000, the difference is a yearly premium average of $1,970 at Safeco, while paying $2,290 on average yearly at Allstate.
If you think you qualify for more discounts, Allstate may fit your needs better. Regardless of which company you are considering, get a free quote here. You can get free quotes for car insurance from many companies here. Allstate offers several discounts that Safeco does not, including new vehicle discounts, telematics discounts, green vehicle discounts, and discounts for air bags.
Discount options
| | | |
| --- | --- | --- |
| Discount Type | Allstate | Safeco |
| teenSMART Discount | up to 35% | up to 15% |
| Accident Forgiveness | up to 30% | Varies |
| Defensive Driver Discount | up to 20% | Varies |
| New Car Discount | up to 15% | -- |
| Multiple Vehicle Discount | up to 10% | up to 36% |
| Passive Restraint Discount | up to 10% | -- |
| Prepay Discount | up to 10% | Varies |
| Paid in full discount | up to 10% | Varies |
| Early Quote Discount | up to 10% | -- |
| Multiple Policy Discount | up to 10% | up to 14% |
| Low Mileage Discount | up to 10% | up to 20% |
| Good Student Discount | up to 10% | up to 16% |
| Good Driver Discount | up to 10% | up to 15% |
| Farm Vehicle Discount | up to 10% | -- |
| EV/Hybrid Discount | up to 10% | -- |
| Anti-lock Brake Discount | up to 10% | Varies |
| E-billing Discount | up to 10% | -- |
| Anti-Theft Device Discount | up to 10% | up to 3% |
| Preferred payment discount | up to 5% | -- |
| Good Payer Discount | up to 5% | -- |
| Student Away at School Discount | up to 5% | up to 20% |
| Senior Adult Discount | up to 5% | Varies |
| Paperless documents discount | Varies | -- |
| Driving training discount | Varies | Varies |
| Deductible discount | Varies | Varies |
| Family Discount | Varies | -- |
| Utility Vehicle Discount | Varies | -- |
| Good Credit Discount | -- | up to 73% |
| Home Owner Discount | -- | Varies |
| Loyalty Discount | -- | Varies |
| Accident Free Discount | -- | Varies |
Both Allstate and Safeco offer coverage for rental cars and some roadside assistance coverage, but they also have some unique offerings. Allstate offers more coverage relating to pets and unique custom parts, while Safeco provides auto glass repair coverage. Both companies provide free quotes, which can access here at General.