Enter your ZIP Code to get insurance quotes in your area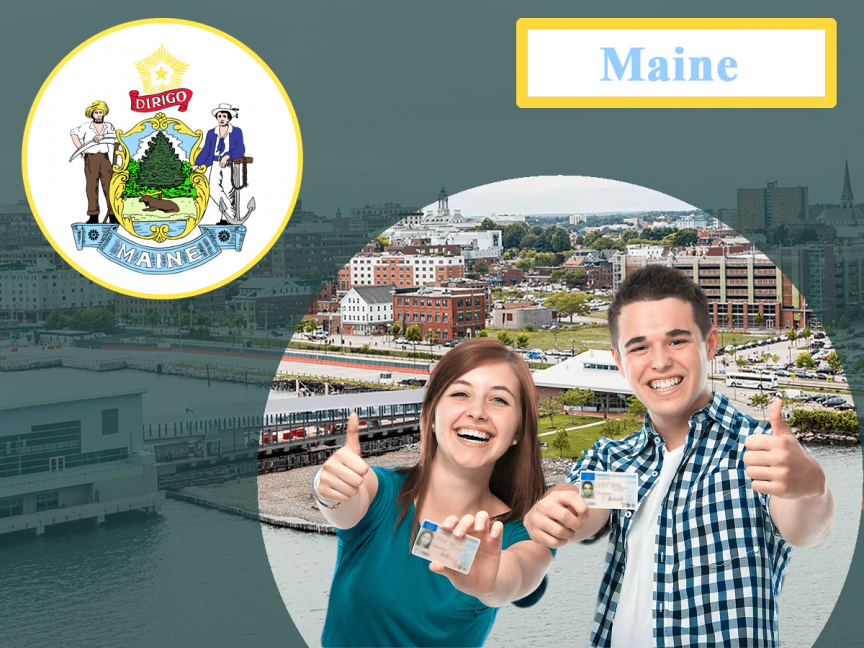 Auto Insurance Basics in Maine
Most states in the union require drivers to carry a minimum threshold of financial resources to defray the costs to people and property resulting from a car accident. By far the vast majority of people buy car insurance from a provider to satisfy this obligation and to give themselves financial protection. By in a few states you can actually meet the letter of the law by depositing a prescribed amount of money with the State Treasurer or with a surety bond provider.
The reason for the requirements is simple. The total annual cost of car accidents in the United States totals, including medical expenses, property damage lost productivity, etc. is over $800 billion according to the National Highway Traffic Safety Administration. In recent years there have been over 6 million accidents per annum in the United States. This has resulted in almost 36,000 deaths per year and millions more injured. Driving while under the influence of alcohol and excessive speeding account for well over half of all auto related fatalities.
The rate of car fatalities has actually risen in recent years after falling rather steadily in the preceding decades. There is growing concern that cell phones, texting and other factors are leading to a spike in "distracted driver" related crashes. In short, driving can be a dangerous and the potential for financial risk is vast.
The automobile insurance industry offers a broad range of products for drivers to protect themselves financially. A car is a significant cost. Even low end cars can cost $20,000 or more and luxury vehicles cost substantially more. They are big investments. But the medical costs resulting from injuries sustained in a crash cost run orders of magnitude higher than that. Liability coverage for automobiles provides reimbursement to another party if you yourself have caused an accident. Liability coverage is typically broken into two components: damage for bodily injury and damage to property.
If you want protection for your own property and medical bills you would need to purchase collision insurance and Personal Injury Protection (known as PIP). Collision reimburse you, up to a point, for needed repairs to your vehicle, while PIP provides additional coverage for any medical bills not covered by any health insurance you might have. Drivers in Maine can also purchase Comprehensive insurance which can protect them from fire, theft or weather related damage to their cars.
And for each of these types of insurance you can usually buy higher levels of coverage, offering you more financial security. But be aware that depth of coverage and annual premiums move in tandem. The more coverage you want, the more it will cost you. Also, every policy will have a set dollar level, known as a deductible, that you yourself have to pay out first before your insurance coverage kicks in. Deductible levels move inversely to premiums. In other words, you can lower your premiums by choosing a higher deductible level.
Car Insurance Requirements in Maine
Drivers in the state of Maine are obligated to carry liability insurance in order to legally operate a vehicle. And the mandated levels are higher than many other states. Maine requires a driver to carry a minimum of $50,000 for the death or injury of a single person in an accident caused by the driver of an insured vehicle; $100,000 of total bodily liability if more than one person is affected; and $25,000 for any property damage caused by the insured driver.
Maine also requires drivers to carry additional insurance coverage called uninsured motorist coverage, known as UM. This type of insurance covers you if another driver causes an accident that involves you. Uninsured or under insured drivers who get in accidents often rely on the court system for reimbursements and the resultant law suits help drive all auto insurance costs higher. Maine's required UM minimums are $50,000 per person and $100,000 per accident.
| | |
| --- | --- |
| Maine Required Car Insurance Coverage | ME Required Min. Limits |
| Bodily Injury (BI) | $50,000 per person / $100,000 per accident |
| Property Damage (PD) | $25,000 per accident |
| Medical Payments (MedPay) | $2,000 per person |
| Uninsured/Underinsured Bodily Injury (UM/UIMBI) | $50,000 per person / $100,000 per accident |
Average Costs of Coverage in Maine
The average cost of car insurance in the state of Maine is approximately a third cheaper than the national average. There are a couple of reasons for this. First and foremost, Maine is not very densely populated. There are less than 1.5 million inhabitants in the state spread over a large geographic area, most of which is heavily rural. This means there are simply fewer accidents and fewer claims made against policies.
| | | |
| --- | --- | --- |
| Rank | Company | Avg. Premium (annual) |
| 1 | Progressive | $624 |
| 2 | Allstate | $774 |
| NA | USAA | $241 |
Maine also has a very low number of uninsured drivers relative to other states. This near-universality of coverage keeps downward pressure on everyone's rates.
The average car insurance policy in Maine for bare minimum coverage is usually less than $500 per year and full coverage for good drivers is estimated in the low $900's. Like everywhere else, drivers with spotless records will get the very best prices.
Drivers who are found at fault in in accident can expect to pay over $400 more than a typical driver for insurance and people found guilty of DUI can expect an increase of $500 or higher. In addition, other factors will influence the cost of policies in Maine. Having good credit can knock hundreds off your bill, a married driver will pay a bit less than a single driver and, like everywhere else, teenagers will pay a lot for coverage.
| | | | | |
| --- | --- | --- | --- | --- |
| Rank | Company | Quote before accident | Quote after accident | Difference |
| 1 | Allstate | $2,108 | $3,061 | $951 |
| 2 | Metropolitan | $1,583 | $3,397 | $1,814 |
| 3 | Progressive | $1,751 | $3,698 | $1,948 |
| NA | USAA | $681 | $955 | $274 |
Unique Car Insurance Rules and Penalties in Maine
Maine is an At Fault state when it comes to car insurance. This means that in a typical accident the participant deemed to be the cause of the incident will be the one liable for the damages of the other party. This usually means that the insurance company of the at fault party reimburses expenses up to the stated limit of the particular policy.
| | | | |
| --- | --- | --- | --- |
| Offense | Suspension | Jail Time | Fine |
| 1st no aggravating factors | 150 days | 0 | $500 |
| 1st w/aggravating factors* | 150 days | 48 hours | $500 |
| 1st (refusal)** | 275 days | 96 hours | $600 |
| 2nd*** | 3 years | 7 days | $700 |
| 2nd (refusal) | 3 years | 12 days | $900 |
| 3rd | 6 years | 30 days | $1,100 |
If you drive without insurance in Maine and get into an accident you will be liable for all costs out of pocket if you are the at fault driver. It could also make it hard to get reimbursed if the other driver is at fault.
The penalties for being caught driving while uninsured include the suspension of both your driving license and your vehicle's registration, in addition to a fine.
How to Get the Cheapest Car Insurance in Maine
It almost goes without saying that having a clean driving record (no accidents or serious moving violations) gets you the lowest rates. But even the best rates vary by carrier. That's why you should always get multiple quotes before making your decision. Get free price quotes and you can then rest assured that you're getting a great deal on your insurance. At General.com we make it easy to get no cost no obligation quotes. Let us help you save money.