Enter your ZIP Code to get insurance quotes in your area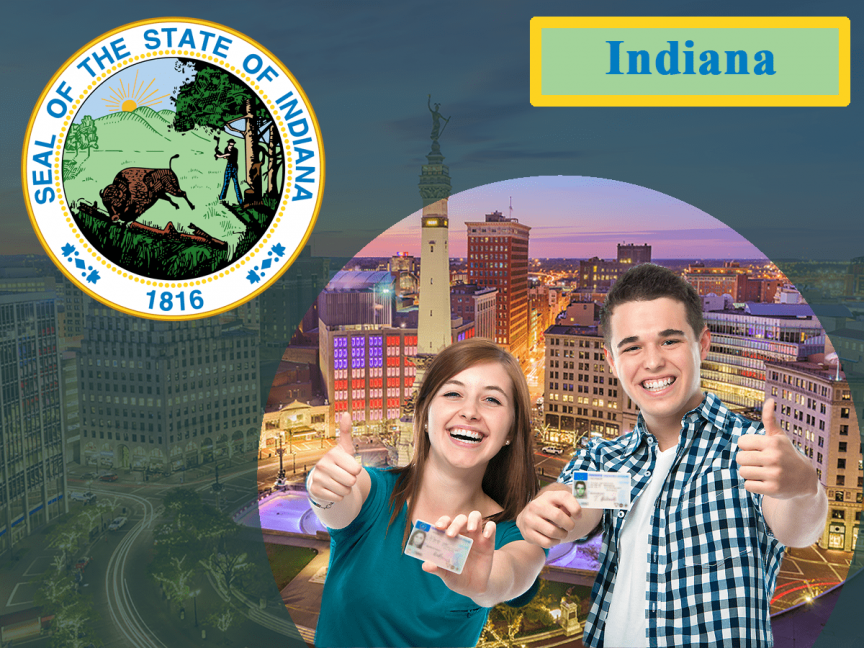 It is not just the people driving long-distance auto races at the Indianapolis Motor Speedway who use cars in the state of Indiana, but the speeds people drive are a lot less on average. The first long-distance auto race in the country was held in 1911 in Indiana. The rules of the road are a little bit different on the racetrack. Either way, drivers need to know the rules and regulations around car insurance, traffic laws, and more when driving in the state of Indiana. Every Memorial Day weekend, the Indianapolis 500 is held, but drivers are taking advantage of the roads in the state every day of the year.
Indiana sees its fair share of snow, rain, sleet, and there are other hazards on the road as well. Due to this, the state requires that people have a minimum amount of auto insurance to drive legally. General has the tools you need to get free quotes on car insurance quickly and easily. Comparing prices is one of the best ways to save on car insurance, but drivers should also research the amount of insurance coverage that best suits their needs. Get the top car insurance information on the requirements, average costs, penalties for driving without insurance, and ways to save, here at General.
Auto Insurance Requirements In Indiana
The state of Indiana has laws pertaining to the amount of automobile insurance coverage a person needs in order to drive legally. These laws are designed to help protect both you and other drivers if an accident occurs. Many people do choose to get coverage outside of the minimum limits, as automobile crashes can be quite expensive, particularly for the at-fault party. The minimum required insurance amounts in the Hoosier state include $25,000 of bodily injury liability coverage per person, $50,000 bodily injury liability coverage per accident, and $10,000 minimum in property damage liability coverage. Also, uninsured motorist coverage and underinsured motorist coverage are required to be offered in the amounts of $25,000 per person and $50,000 per accident minimum.
Some drivers choose to decline their uninsured and underinsured motorist coverage in writing, which is allowed. This means you will see a price adjustment in your car insurance premium. It also means you will not have this coverage. Uninsured motorist coverage helps pay for the costs of bodily injury damage and property damage to yourself and your vehicles if another driver is found to be at fault and does not have insurance coverage or does not have enough insurance coverage, to cover the related expenses.
Average Cost Of Coverage In Indiana
The amount a person pays for car insurance coverage in the state of Indiana can vary from one city to the next, but the average is lower than the national average. Both the minimum limits required by law and full coverage car insurance are below the national average in their respective categories. Many factors go into calculating a person's auto insurance rate, and where a person lives has a large impact. Some people choose to rent or purchase a home in a different neighborhood to due savings they can get on different types of insurance.
Other factors besides location also have an impact on what a person pays for their car coverage plan. This includes things like good grades, driving record, credit score, antitheft devices, having multiple plans with the same company, and more. Another way an auto insurance policy can be affected in terms of price is by raising or lowering the deductible.
If a person raises their deductible, they will have to pay more out-of-pocket if an accident occurs before their insurance policy will kick in to start covering costs. This lowers the premiums a person pays. That said, a person needs to be able to afford their deductible in order for a payout on the policy to happen. Finding a good balance between the deductible you select, the coverage amounts you get, and the types of insurance coverage you decide to purchase is essential.
Cheapest Car Insurance Companies In Indiana
There is not one cheapest car insurance company for every person. This is because each company uses different methods to determine what a person will be quoted. Some companies use risk factor information differently, which is the reason for these variations. Some of the cheapest auto insurance companies in Indiana, on average, include Erie, Auto-Owners, and Progressive. American Family is also on the lower end of the spectrum. USAA insurance policies are also inexpensive in the state, though those are only offered to current or former members of the military, as well as their families.
People who decide to purchase more than the minimum coverage available will end up paying a little bit more for their policy. Many people value this additional protection, as car crashes can be expensive.
| | | |
| --- | --- | --- |
| Rank | Company | Avg. Premium (annual) |
| 1 | Travelers | $609 |
| 2 | USAA | $862 |
| 3 | Auto-Owners | $893 |
| 4 | Erie | $938 |
Unique Car Insurance Rules And Penalties In Indiana
Depending on where you are in the state, fines and fees can vary for many types of tickets. For driving without insurance, however, the fines and fees are steep all across the state. Driving without an insurance plan that is valid in the state of Indiana could mean the suspension of your driver's license. It can also mean fines and fees of between $250 and a thousand dollars or more. Driver's license suspension can last from up to 90 days to year more. In some cases, a person will need to carry an SR-22 certificate as further proof of insurance. This can be required for up to three years.
Not only do you have to provide proof of insurance when you get pulled over, but there are other times where a certificate of compliance, also called the COC, is required. If your driver's license is suspended, it will remain so until your insurance provider sends a COC to the state showing the vehicle was covered. If you did not have the proper insurance coverage, your driver's license and registration could be suspended for up to year or more.
| | | | |
| --- | --- | --- | --- |
| Violation | Avg. Annual Auto Insurance Rate | % Insurance Rate Increase | $ Insurance Rate Increase |
| Hit and Run | $1,756 | 53% | $607 |
| Refused Breathalyzer/Chemical Test | $1,631 | 42% | $482 |
| DUI | $1,631 | 42% | $482 |
| Racing | $1,756 | 53% | $607 |
| Reckless Driving | $1,719 | 50% | $569 |
| Driving with a Suspended License | $1,756 | 53% | $607 |
| At-Fault Accident | $1,603 | 39% | $454 |
| Driving with an Open Container | $1,487 | 29% | $338 |
| Operating a Vehicle Without Permission | $1,498 | 30% | $349 |
| Passing a School Bus | $1,411 | 23% | $262 |
| Improper Passing | $1,411 | 23% | $262 |
| Following Too Closely | $1,380 | 20% | $230 |
| Speeding | $1,377 | 20% | $227 |
| Failure to Stop at a Red Light | $1,380 | 20% | $230 |
| Illegal Turn | $1,369 | 19% | $219 |
| Driving Wrong Way/Wrong Lane | $1,426 | 24% | $276 |
| Failure to Yield | $1,380 | 20% | $230 |
| Speeding in a School Zone | $1,350 | 17% | $200 |
| Driving Too Slowly | $1,350 | 17% | $200 |
| Distracted Driving | $1,369 | 19% | $219 |
| Driving with Expired Registration | $1,150 | 0% | $0 |
| Failure to Show Documents | $1,150 | 0% | $0 |
| Not-at-Fault Accident | $1,186 | 3% | $37 |
| Failure to Use Child Safety Restraint | $1,150 | 0% | $0 |
| Failure to Wear a Seat Belt | $1,150 | 0% | $0 |
| Driving Without Lights | $1,150 | 0% | $0 |
How To Get The Cheapest Car Insurance In Indiana
Use the tools at General to get the best rates on auto insurance policies. Finding the cheapest auto insurance in Indiana starts by shopping around. Free quote tools at General are perfect for shopping around as well as making sure you have the discounts available to you applied to your quote.