Enter your ZIP Code to get insurance quotes in your area
Nationwide vs Progressive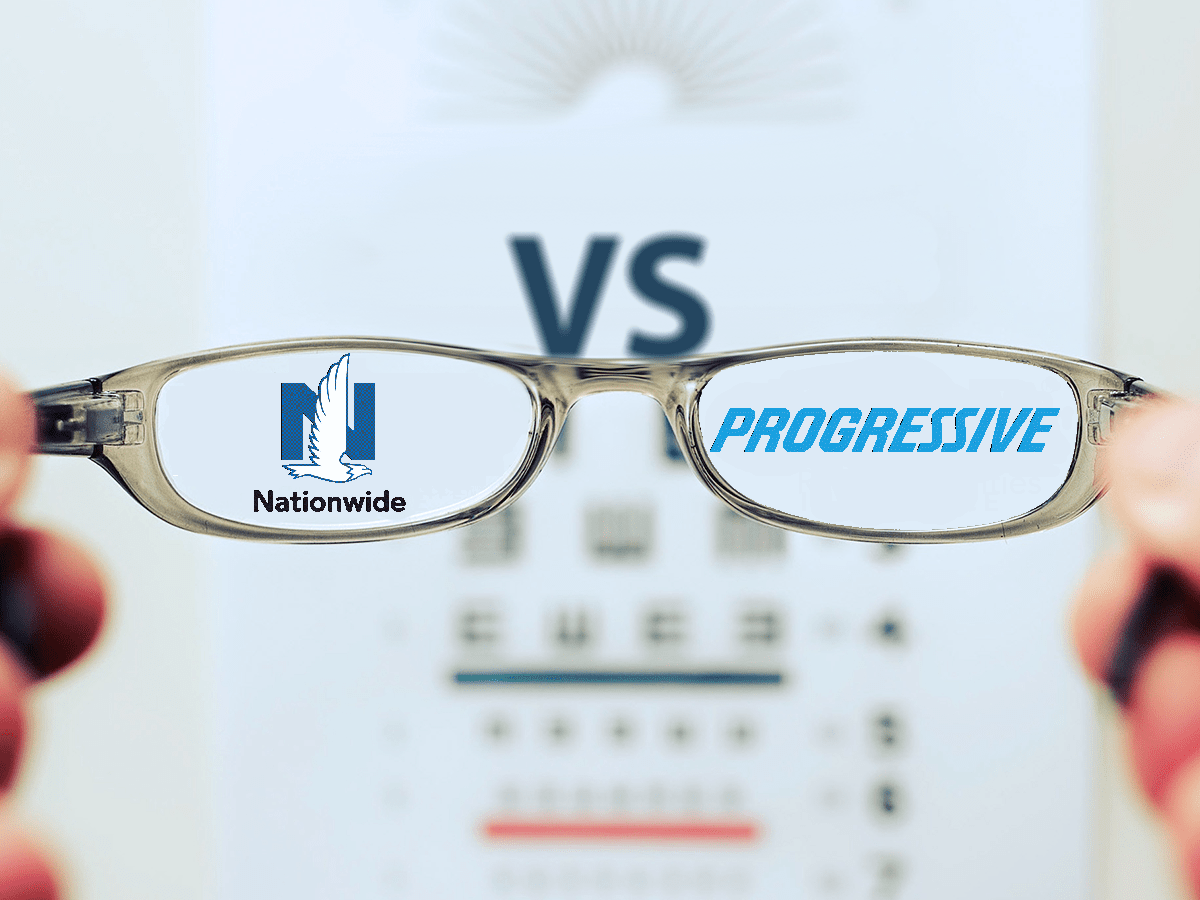 Car insurance is a legal requirement for driving an automobile. It is a "must have". And, as may already know, unless you are looking for a pay by the mile insurance plan, the cost of auto insurance is variable. Your premium payments are based on a combination of factors. Most carriers have a range of options for consumers to consider. Your car must have liability insurance but you may also want to augment your coverage in order to give yourself deeper financial protections.
For example, you can purchase additional coverage for vandalism, theft and fire. You can buy a policy that can provide a rental car for you should your primary vehicle need to go to the shop for repairs. You can get protections against other uninsured or underinsured drivers, protections for expensive auto audio gear. You get the picture. There are a lot of options.
The insurance industry as a whole is a state by state proposition. Even the most familiar national brands need to conform to individual state regulations in addition to applicable Federal rules. These mandates protect the public by helping to ensure that insurance companies are strong enough to meet the financial promises they have made to their policy holders.
You also need to share information such as your residence (Urban? Suburban? Rural?) and some demographic information (are you an experienced or new driver?). Of prime interest to car insurance carriers is your past driving record. They reward good drivers with good prices.
Let's Look Into Nationwide
The Nationwide Mutual Insurance Company, or simply just Nationwide, is a Fortune 100 company based in Columbus, Ohio. They recently report total sales of over $46 billion against which they realized net operating income of $1.3 billion. They employ approximately 34,000 people across the nation.
As car ownership increased in America in the early 20th Century, it soon became apparent that farmers and ranchers were having fewer accidents and hence making fewer claims than their city dwelling counterparts. But they were paying the same premiums as the urbanites. This situation presented a business opportunity. The Ohio Farm Bureau sought to rectify this. They obtained a license to sell insurance and started selling it to Ohio farmers. They gradually expanded to other states, started offering additional insurance products and changed their name to Nationwide in 1955.
Nationwide's marketing efforts have significant associations with sporting events. The company was instrumental in getting a professional hockey team to move to its home town of Columbus, Ohio, by building an arena near their headquarters. In addition, Nationwide has sponsored NASCAR racing and golf events and utilizes football legend Peyton Manning in many of its commercials.
The company jingle "Nationwide is on your side" is eminently hummable.
Will you get better pricing from Nationwide?
The price you pay Nationwide for your auto insurance is going to be a function of the levels of coverage you choose and the makeup of your personal profile information. Rates are determined by the probability or actuarial tables that each company utilizes. You are most probably not going to pay what others unless they exactly match your profile and coverages.
Obtain a free price quote from Nationwide. Ask them if they give multi vehicle discounts. Do they have discounts for professional affiliations like armed service membership.
The underwriting team at Nationwide will consider many factors in order to determine the prices they will quote you. But you should be a smart consumer and do your leg work upfront. Make inquiries, get quotes, make comparisons.
Now, What About Progressive?
Progressive Insurance, or The Progressive Group of Insurance Companies, was founded a two entrepreneurs, Joseph Lewis and Jack Green, in 1937. The two entrepreneurs envisioned a business plan that would push the boundaries of the still young auto insurance industry. They were among the first providers to offer car insurance to drivers who may not have had spotless records. Decades later they claim to be the first insurance company to have a web presence and they were in the vanguard of financial companies to enable customers to utilize mobile devices.
Listed on the New York Stock Exchange since they went public, Progressive recently reported earnings of $2.6 billion and revenue of around $32 billion. The company reports that they have an 11 percent share of the market which places them as the third largest carrier. The company is financially sound and is viewed very positive by the major credit rating agencies
Consumers may know Progressive best from their popular advertisements featuring a fictional All-American cashier named Flo who enthusiastically and earnestly explains how Progressive can benefit its customers.
| | | |
| --- | --- | --- |
| Age | Progressive avg. annual premium | Nationwide avg. annual premium |
| Teens | $8,248 | $3,624 |
| 20s | $2,287 | $1,582 |
| 30s | $1,646 | $1,582 |
| 40s | $1,644 | $1,151 |
| 50s | $1,542 | $1,114 |
| 60s | $1,403 | $1,028 |
How Can You Save Money with Progressive?
If you have more than one car, ask if Progressive give discounts for multiple vehicles. Are you either currently or formerly a member of the armed forces? See if they provide affiliation discounts. Try to regularly monitor price the company's prices to see if there are any seasonal discounts. By being diligent you can uncover the best bargains. Being a safe driver is the ultimate best way to get the low rates.
| | | |
| --- | --- | --- |
| Discount Type | Nationwide | Progressive |
| Low Mileage Discount | -- | Varies |
| Farm Bureau Discount | up to 10% | -- |
| Defensive Driver Discount | up to 10% | Varies |
| Good Student Discount | up to 15% | up to 10% |
| E-billing Discount | -- | Varies |
| Accident Free Discount | Varies | -- |
| Provider Switch Discount | -- | Varies |
| Paid in full discount | -- | Varies |
| Paperless documents discount | Varies | Varies |
| No lapse in coverage discount | -- | Varies |
| Prepay Discount | -- | Varies |
| Passive Restraint Discount | -- | up to 10% |
| Affinity group discount | Varies | -- |
| Military Discount | -- | Varies |
| Accident Forgiveness | Varies | -- |
| Discount Finder | -- | Varies |
| Signing documents when you buy online discount | -- | Varies |
| Continuous Coverage Discount | -- | Varies |
| Organization Discount | up to 10% | -- |
| Student Away at School Discount | -- | up to 10% |
| Anti-Theft Device Discount | up to 5% | up to 5% |
| Starting your auto quote online discount | -- | Varies |
| Good Driver Discount | up to 10% | up to 26% |
| teenSMART Discount | -- | Varies |
| Multiple Policy Discount | up to 25% | up to 10% |
| Preferred payment discount | Varies | Varies |
| Home Owner Discount | -- | Varies |
| Youth Driving Discount | -- | Varies |
| Loyalty Discount | -- | Varies |
| Good Credit Discount | -- | up to 84% |
| Multiple Vehicle Discount | up to 20% | up to 30% |
| Driving Habits Discount | Varies | -- |
| Family Discount | up to 25% | -- |
Farm Nationwide vs Progressive – Who's Got the Best Rate?
The variable pricing nature of the auto insurance industry make it almost impossible to say unequivocally which of the two carriers would provide you with the cheapest solution to your car insurance needs. That's why it's important for you to be a smart consumer and shop around. Try to pit carriers against each other by getting apples to apples quotes for your coverage. Save money by being smart.
The Bottom Line for Car Insurance Savings
The General.com web site is ready to act as your tool to identify vendors, aggregate and distribute your insurance needs and get you free price quotes. This way you can see for yourself who is willing to give you the lowest price for your business. You're just a few clicks away from realizing savings. Go to General and save.