Enter your ZIP Code to get insurance quotes in your area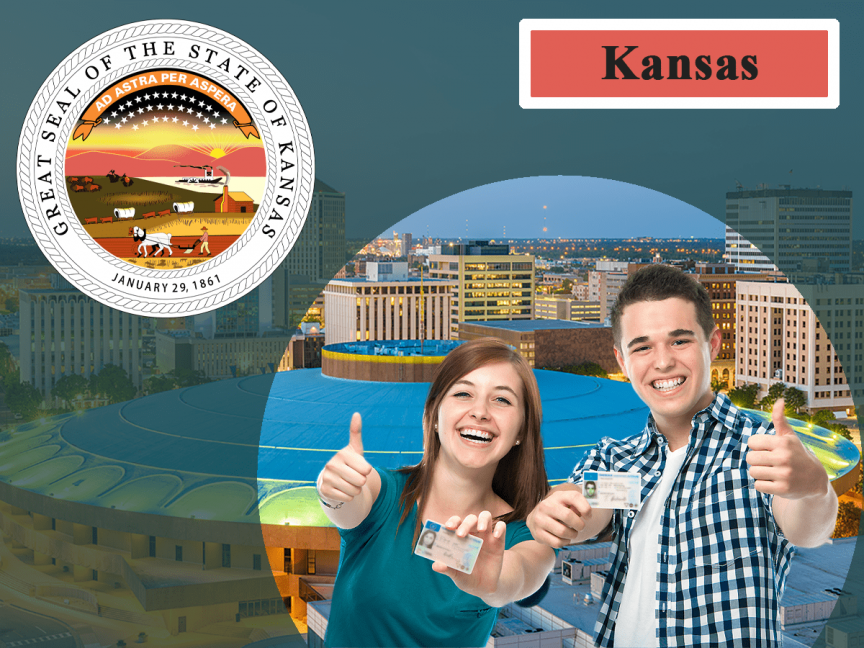 Auto Insurance Basics in Kansas
Car accidents happen at an alarming rate in the United States. The National Highway Traffic Safety Administration reports that there are over 6 million accidents every year on American roads. They also report that there are over 36,000 annual fatalities in recent years, number that is, sadly, on the upswing. Analysis of police records shows that two of the largest factors in car accidents are speeding and driving while under the influence of alcohol. Accidents caused by distracted drivers has increased substantially in recent years. Texting while driving and other smartphone use can cause you to take your mind off of the road where even a momentary lapse in attention can result in a crash.
The economic cost of all these accidents is sobering. It is estimated that the cost of a single car crash fatality, in both personal injury and property damage costs, is over $1.1 million. The cost of a disabling injury related to an accident averages well over $60,000 and even a garden variety collision with no injuries carries an average price tag of around $3,500. Combined with lost wages and productivity, the estimated costs to the economy of automobile accidents is in the hundreds of billions of dollars every year.
The potential cost to an individual driver involved in an accident can therefore range from merely being economically painful to potential bankrupting. The car insurance industry has, from the early days of the automobile era, risen to provide financial protections to motorists. The basic premise of all insurance products is to quantify the prevalence of particular risks, calculate the cost when those risks occur, and then spread the collective risk over a pool of paying customers. Even though there are millions of accidents every year, the overwhelming majority of drivers have perfectly safe records. So, with car insurance you pay some money now in return for a financial cushion should you need on later.
Basic, plain vanilla car insurance is called liability insurance and the coverage it provides is limited to damages you may cause to others in the event you cause an accident. Liability coverage is usually expressed in terms of maximum dollars to be paid out in the event of a claim for either bodily injury or property damage. Insurance to protect your own life and property are called collision, comprehensive, personal injury protection, uninsured-underinsured and a host of other financial protections.
The car insurance premium any driver pays is not solely a function of coverage levels. Your particular personal factors will also determine your rates. Car insurance is a variable priced consumer good the cost of which will be tailored to your own needs and personal risk assessment.
| | |
| --- | --- |
| Kansas Required Car Insurance Coverage | KS Required Min. Limits |
| Bodily Injury (BI) | $25,000 per person / $50,000 per accident |
| Property Damage (PD) | $10,000 per accident |
| Uninsured/Underinsured Motorist BI (UM/UIMBI) | $25,000 per person / $50,000 per accident |
| Personal Injury Protection (PIP) | $4,500 medical benefit and other benefits |
Auto Insurance Requirements in Kansas
Like most states, Kansas requires drivers to be covered by auto insurance. They mandate the following minimum levels of liability insurance for all drivers: $25,000 for bodily injury person and up to $50,000 in case more than one person is injured, and $10,000 to cover property damage. In additional, Kansas requires resident motorists to carry uninsured & underinsured coverage. You will not be able to register your car in the state unless you can provide proof of insurance.
Average Cost of Coverage in Kansas
The cost of an average car insurance policy in the United States in approximately $1,400 per year and rates in Kansas are in line with that number. One of the biggest personal factor determinants of car insurance costs is the age of the driver. Teenaged drivers are the most expensive to insure as statistics indicate that they have a higher rate of accidents than the norm. Rates decrease as you age, then generally inch up again after the age of 60
Good drivers enjoy the best discounts in Kansas as they do virtually everywhere else. Having good credit matters. People with very poor credit may up as much as double the cost of Kansas drivers with exceptional credit.
Cheapest Car Insurance Companies in Kansas
Resident motorists in Kansas have many choices of insurance carriers. As mentioned earlier, your rates will be determined by the breadth and depth of the coverage you choose and by your own personal risk profile. With so many variables there's no one answer to the question of who is the cheapest carrier in the state. Having said that, be advised that while safe drivers enjoy preferred rates, there are some carriers that specialize in the market for drivers with less than perfect records. In other words, shop around!
| | | |
| --- | --- | --- |
| Rank | Company Name | Avg. Premium (annual) |
| 1 | Farm Bureau Mutual (IA Group) | $1,083 |
| 2 | USAA | $1,407 |
| 3 | Nationwide | $1,437 |
| 5 | National Farmers Union P&C | $1,536 |
| 6 | Progressive | $1,642 |
| 7 | Farmers | $2,037 |
| 8 | Metropolitan | $2,160 |
| 9 | American Family | $2,171 |
| 10 | Allstate | $2,501 |
| 11 | Encompass | $5,298 |
Unique Car Insurance Requirements and Penalties in Kansas
The state of Kansas follows the no-fault model of car insurance. This means that in the event of an accident your own carrier will be the first line of reimbursement in case you are injured and require medical attention. It will also cover some limited survivor benefits to your family. The Kansas no-fault model does not preclude you from seeking reimbursement form another at-fault driver in the event of damage to your vehicle.
Driving without insurance is a misdemeanor in Kansas and you are required to carry proof of financial responsibility at all times while driving. Should you be caught driving uninsured, a first offense can result in fines ranging from $300 to $2,500 depending on whether this is your first offense or not. Your license and vehicle registration may be suspended and you will likely need to pay a reinstatement fee at top of all that. Multiple offenders could even face jail time.
| | | |
| --- | --- | --- |
| Rating Factor | Annual Rate | % Increase |
| At-Fault Accident | $1,941 | 26.59% |
| DUI | $1,886 | 24.50% |
| Speeding Violation | $1,707 | 16.56% |
| Bad Credit | $2,694 | 47.16% |
How to Get the Cheapest Rates in Kansas
Being a smart consumer and engaging in some serious comparison shopping is the very best way to ensure getting the cheapest prices. Try getting no cost no obligation quotes from at least three insurance providers before settling on a carrier. Our online pricing tool at General.com can help you get free multiple quotes from Kansas insurance providers. You needn't pay more than you have to. Do apples to apples comparisons and save money.