Enter your ZIP Code to get insurance quotes in your area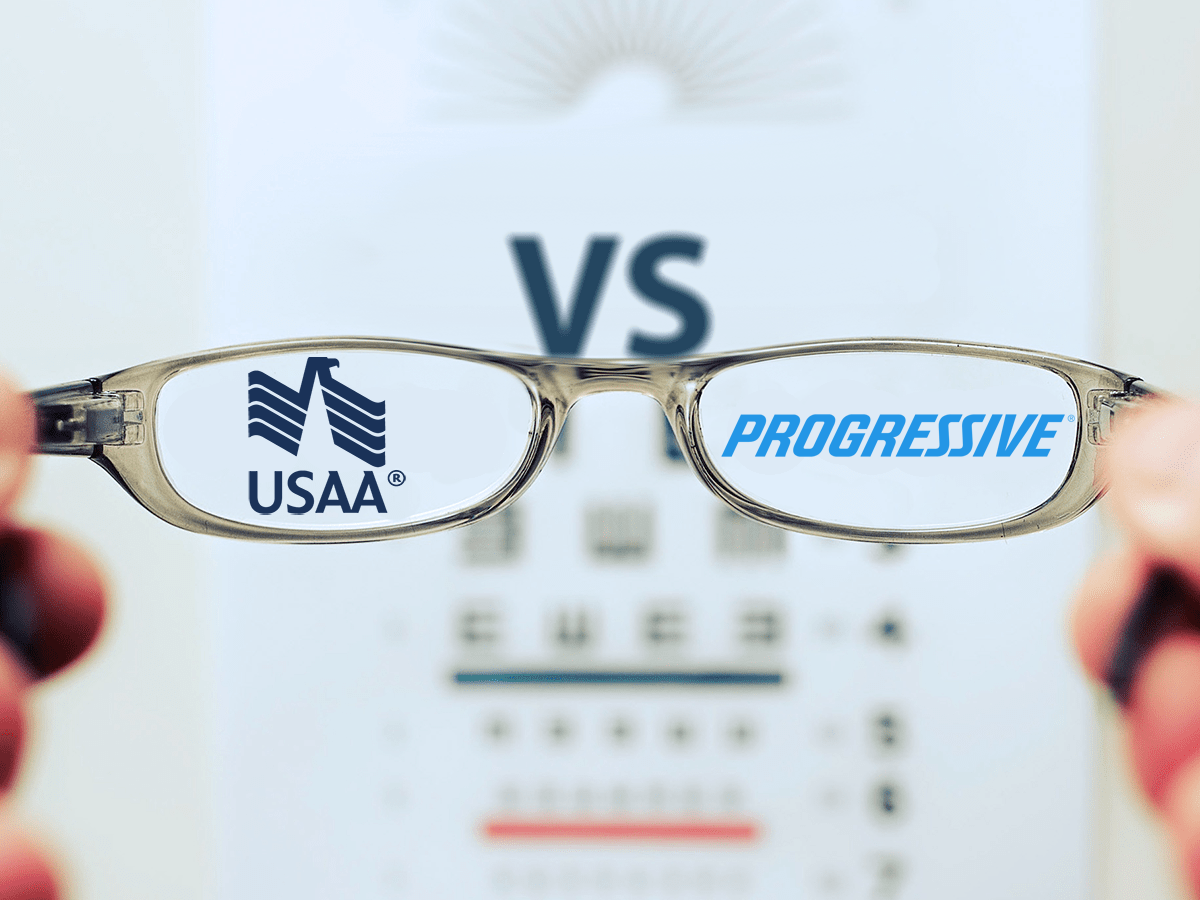 Some auto insurance providers only offer policies to specific communities or demographics. In some cases, a company may only offer plans to high-risk drivers as an example. One of the companies in this comparison provides insurance for a limited demographic, and the other seems to be a little more inclusive in terms of offerings. If you can qualify for both, you will want to compare the differences between USAA and Progressive to find the best plan for you. Finding the best policy is not all about price. Sometimes customer service and a company's financial strength are reasons to choose one auto insurance provider over another.
Insurance rates by age
| | | |
| --- | --- | --- |
| Age | USAA avg. annual premium | Progressive avg. annual premium |
| Teens | $2,864 | $8,248 |
| 20s | $1,261 | $2,287 |
| 30s | $963 | $2,287 |
| 40s | $957 | $1,644 |
| 50s | $889 | $1,542 |
| 60s | $845 | $1,403 |
When it comes to cost, however, driving without an insurance plan can empty a person's bank account quickly. Car insurance offers financial protection for people who get into a car crash. If you are liable to pay for the replacement of another person's vehicle or their medical expenses, because you are found to be at-fault for an accident, it can be expensive. You can get coverage to help pay these expenses by purchasing an adequate auto insurance plan. Compare Progressive and USAA here and find out which company will suit your needs the best.
All About USAA
USAA is a top-ranked auto insurance provider, but there is a caveat. The company only provides policies to people who are members of the military, whether retired or active, and some family members. A person who is in the military cannot qualify a parent of theirs for a plan, however. It is descendants of people who are in the military that get access to this well-known company, as well as spouses.
USAA is well known for its inexpensive policies, but also for its top-of-the-line customer service. Many people who are in the military, or retired from it, decide to get policies from USAA. The company does offer discounts, and many people are well satisfied with the process of filing claims through USAA. With high customer service rankings, solid financial strength, and competitive prices, USAA is a top choice for many qualified drivers. People getting this type of policy can also save money using discounts that USAA offers.
USAA Discounts And Savings
The rates that USAA gives to customers are already pretty low, but drivers can take advantage of these lower rates even more by getting discounts on their policy. Use the free quote tools on this website to get more information on how much a policy will cost. USAA offers a variety of discounts, which include new vehicle discounts, safe driving discounts, loyalty discounts, multiple vehicle discounts, and discounts for having multiple insurance policies with the same insurance company. Bundling your car insurance plan with other types of policies is a great way to save money.
All About Progressive
Being one of the largest auto insurance providers in the country, Progressive has different tools available for people looking for auto insurance plans. This includes a Name Your Price tools that allows people to find a policy that fits into their budget by adjusting their coverage with the maximum flexibility. The company also offers auto financing resources, as well as motorcycle insurance plans, boat insurance plans, homeowners insurance plans, life insurance plans, and numerous other types of policies. Another element of Progressive that many people like is the convenience of their mobile app and the money savings they can get using the various discounts that are available through the company.
Progressive has fantastic financial strength and good customer service ratings. While the company offers competitive rates to most age demographics, younger demographics should take note and make sure to get a free quote on car insurance here.
Progressive Discounts & Savings
In addition to having competitive pricing, to begin with, the company offers many discounts that can help people keep even more money in their wallets. Progressive is the third-largest car insurance company in the country, and they also provide a few different types of unique auto insurance policies. These include things like pet injury protection and rideshare coverage.
Drivers can also get discounts for bundling multiple insurance policies together. Progressive insurance offers numerous types of auto insurance plans, including homeowners' insurance and life insurance. If you purchase more than one type of policy from Progressive, you can see large discounts. There are also discounts for having anti-theft systems in your vehicle, paying for your policy in its entirety in advance, good driver discounts, and more.
Comparing Car Insurance Rates
Each auto insurance carrier uses different methods to determine the premiums that a person is quoted. They will take into consideration things like age, driving record, credit score, as well as the vehicle the person drives. Numerous other variables are utilized, as car insurance providers look to create a risk profile that determines the quote you are offered.
Since a person often has a higher or lower quote from one company to the next, getting free quotes for auto insurance at General is essential to finding the best prices. Make sure when you are comparing rates between companies that you are looking at each policy line by line to make sure they are covering the same things. Compare the limits you have selected for the policies you are comparing, the types of insurance coverage included in the policy, and the cost of the deductibles for the plans you are considering.
Car insurance discounts: Progressive and USAA
| | | |
| --- | --- | --- |
| Discount Type | Progressive | USAA |
| Good Credit Discount | up to 84% | -- |
| Multiple Vehicle Discount | up to 30% | up to 13% |
| Good Driver Discount | up to 26% | up to 10% |
| Multiple Policy Discount | up to 10% | up to 9% |
| Good Student Discount | up to 10% | Varies |
| Student Away at School Discount | up to 10% | up to 20% |
| Passive Restraint Discount | up to 10% | up to 15% |
| Anti-Theft Device Discount | up to 5% | up to 20% |
| Starting your auto quote online discount | Varies | -- |
| Signing documents when you buy online discount | Varies | -- |
| No lapse in coverage discount | Varies | -- |
| Paid in full discount | Varies | -- |
| Discount Finder | Varies | -- |
| Prepay Discount | Varies | -- |
| E-billing Discount | Varies | -- |
| Defensive Driver Discount | Varies | Varies |
| Low Mileage Discount | Varies | Varies |
| Military Discount | Varies | up to 15% |
| Loyalty Discount | Varies | Varies |
| Continuous Coverage Discount | Varies | -- |
| Paperless documents discount | Varies | -- |
| Youth Driving Discount | Varies | -- |
| Preferred payment discount | Varies | -- |
| Home Owner Discount | Varies | -- |
| Provider Switch Discount | Varies | -- |
| teenSMART Discount | Varies | Varies |
| Vehicle Storage Discount | -- | up to 60% |
| Family Discount | -- | up to 10% |
| Driving training discount | -- | Varies |
| Daytime Running Lights Discount | -- | Varies |
| New Car Discount | -- | Varies |
| Anti-lock Brake Discount | -- | Varies |
| Accident Forgiveness | -- | Varies |
Also, keep in mind the customer service ratings and financial strength of the companies. Both USAA and Progressive have good customer service, though USAA edges Progressive out in that category. Both companies have good financial strength as well, so the pricing and whether you qualify might be some of the deciding factors. Get your free auto insurance quote today.