Enter your ZIP Code to get insurance quotes in your area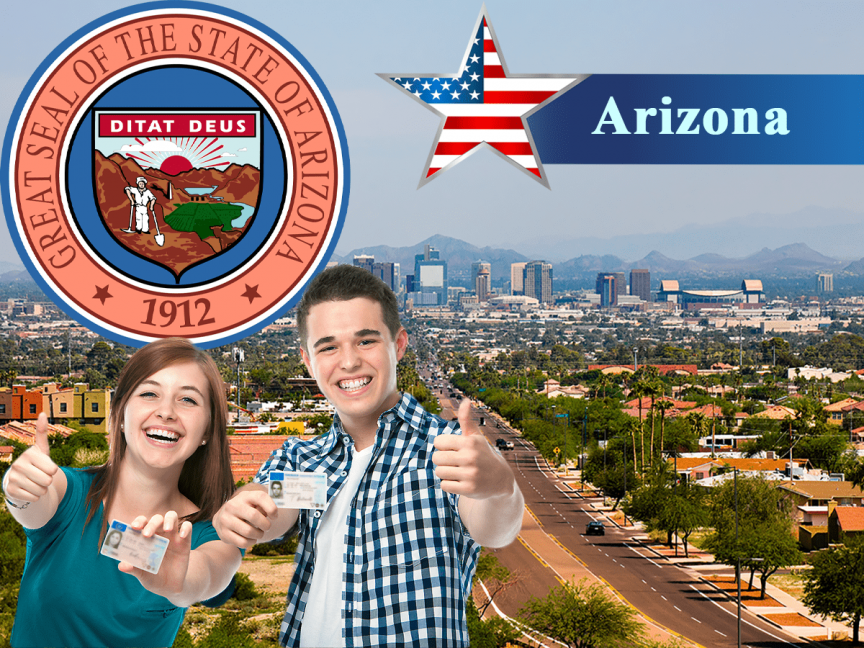 Auto Insurance Basics
The potential economic costs for even a small car accident can be considerable. The average fender bender, where no one gets hurt costs about $3,500, on average. In addition to the obvious human toll, the average economic costs of a fatal car accident is approximately $1.3 million. Car insurance is a contract that agrees to reimburse the policy holder for accident related costs within carefully defined circumstances and up to a very specific dollar amount. The details are spelled out in your policy.
Virtually all states, including Arizona, mandate insurance coverage for all drivers. Basic car insurance is called Liability coverage and if you have an accident with another vehicle, it will cover the resulting expenses suffered by the other party, up to a certain limit.
Given the substantial costs of a serious accident a good economic rule of thumb is to buy as much coverage as you can afford. There are a variety of insurance products designed to protect Arizona drivers in addition to liability coverage. Remember, liability insurance only reimburses the other party's costs. If you want coverage for your own expenses, you'll want to consider collision insurance and property insurance. These products will reimburse you, within limits, for the costs or repairing your car or for repairing something you've hit with your car. If you want coverage for things like theft, fire, weather related damage and the like, consider buying comprehensive insurance.
If you don't have health insurance, or want to augment your health insurance for additional financial protection, you can purchase Personal Injury Protection which will help defray any medical costs incurred by you and your passengers. As you can see, it's a complicated, often confusing array of products and choices.
Car Insurance Requirements in Arizona
The state of Arizona requires all drivers to be covered by an automobile insurance policy. In fact, you will not be able to register your car unless you have proof of insurance. And you must keep proof of insurance (usually a card sent to you by your insurer, but you could also scan a copy onto your phone) in your vehicle at all times. Driving without insurance can lead to a three month suspension of your vehicle's registration and your license. And you won't be able to get them reinstated without proof of coverage and a $500 fine for a 1st offense. A 2nd offense comes with a $750 fine and a six month suspension, and a 3rd offense will cost you $1,00 and a 2 year suspension.
Like most states, Arizona sets a minimum amount of liability coverage that drivers must have. The minimums are as follows: at least $15,000 for injuries to or death of a person, at least $30,000 for total bodily liability and at least $10,000 for property damage. Keep in mind that if the costs of an accident you are held liable for exceed those minimums, you will be on the hook for those costs. So Arizona drivers should carefully consider purchasing additional coverage.
| | |
| --- | --- |
| Arizona Required Car Insurance Coverage | AZ Required Min. Limits |
| Bodily Injury (BI) | $15,000 per person / $30,000 per accident |
| Property Damage (PD) | $10,000 per accident |
The Average Costs of Coverage in Arizona
In recent years, auto insurance costs in the state have tended to be approximately $1,250 year which is about $100 below the national average. The cost you will pay is determined by the dollar level of coverage you choose, the types of coverage, and your personal risk profile. Car insurance prices are tailored to the individual rather than a fixed price for all. Safe drivers are those without a history of car accidents and no serious moving violations. Parking tickets will not impact your insurance rates unless you neglect to pay them and they then show up on your credit history. However, having even a minor, no-fault accident in Arizona may increase your annual premiums by around $600. So being a safe driver pays off.
Your age will be a big factor in your annual premiums. Teenaged drivers will usually be charged the highest rates and premiums decline as you get older. A 40 year old driver may pay only on-third the cost of a 19 year old driver.
| | |
| --- | --- |
| Age | Average Premium (yearly) |
| 16 | $6,273 |
| 17 | $5,674 |
| 18 | $4,938 |
| 19 | $2,919 |
| 20s | $1,581 |
| 30s | $1,164 |
| 40s | $1,107 |
| 50s | $1,025 |
| 60s | $1,076 |
| 70s | $1,374 |
Your marital status and your credit score will also influence your rates in Arizona. Married drivers can expect lower premiums, all other things being equal, and the better your credit score the lower your car insurance will probably cost you.
| | |
| --- | --- |
| Marital Status | Average Rate (annual) |
| Single | $1,181 |
| Married | $1,089 |
| Divorced | $1,180 |
| Widowed | $1,158 |
Cheapest Car Insurance Companies in Arizona
There are many auto insurance providers offering coverage to drivers in the state. Premiums for the same levels of coverage will vary from company to company, so it is recommended that you shop around. Such consumers may be able to get minimum level coverage of around $350 per year and fuller financial protection at around $900 per year. Remember higher levels of protection require higher premiums.
Drivers with an accident, a moving violation, or a DUI on their record can expect to pay higher rates. The American Family company specializes in that market and may be your best bet. But in any case, you are strongly urged to get prices from three companies before you choose an insurance provider.
| | | |
| --- | --- | --- |
| Rank | Company | Avg. Premium (annual) |
| 1 | Hartford | $729 |
| 2 | Progressive | $765 |
| 3 | American Family | $931 |
| 4 | Allstate | $1,397 |
| 5 | Farmers | $2,229 |
| N/A | USAA | $486 |
Unique Car Insurance Rules and Penalties in Arizona
Arizona is known as an "At Fault" state for insurance purposes. This means that the culpable party in a crash will need to pay the damages. Blame can also be apportioned on a percentage basis if basis parties' actions contributed to the crash
Besides having an insurance policy with a carrier, Arizona provides an alternative for the proof of financial responsibility (a term for having economic coverage in case of an accident) needed in order to legally operate a vehicle. You can deposit $40,000 with the State Treasurer which will act as a draw-down fund in the case of an accident. You would be liable for any claims over the initial $40,000.
How to get the Cheapest Car Insurance In Arizona
At the end of the day, simple comparison shopping will help you figure out who can provide you your desired levels of coverage for the lowest price. Rate s will vary between providers for even the safest drivers. You should get free quotes from insurance companies and see for yourself who will give you the cheapest rates. Our free web based tool at General.com can make your search simple, easy and quick.