Enter your ZIP Code to get insurance quotes in your area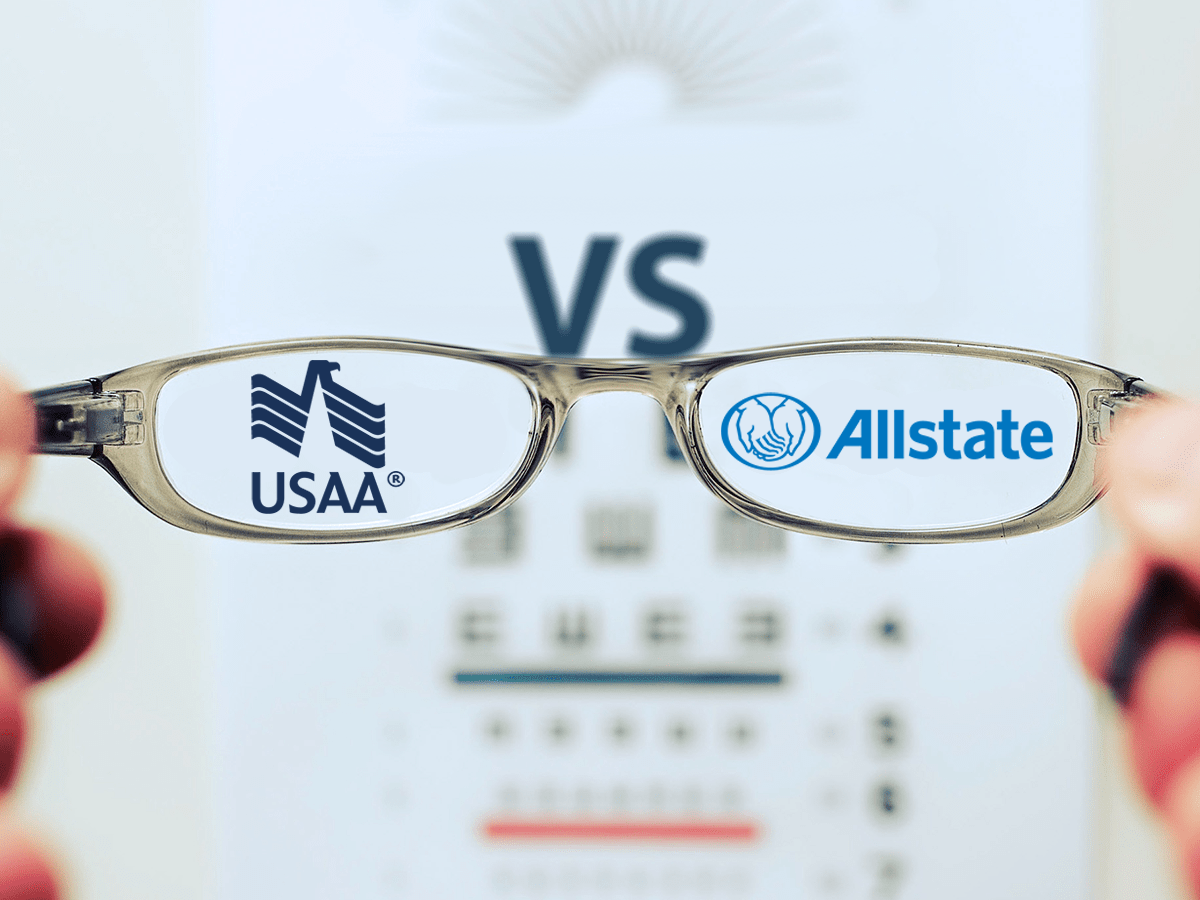 Getting the top rates for automobile insurance takes time, but a lot of this time can be saved by using the right tools to do your research. General has not only reviewed the companies you want to be considering but also has many comparisons like this one. Here, General compares USAA and Allstate in terms of their auto insurance policies. Each company offers different things and caters to different communities. Both companies have high points, as well as different savings and discount opportunities.
Car insurance rates by age
| | | |
| --- | --- | --- |
| Age | USAA avg. annual premium | Allstate avg. annual premium |
| Teens | $2,864 | $6,442 |
| 20s | $1,261 | $2,636 |
| 30s | $963 | $2,636 |
| 40s | $957 | $1,912 |
| 50s | $889 | $1,893 |
| 60s | $845 | $1,768 |
All About USAA
USAA is an auto insurance company that offers award-winning customer service, fantastic products of many types, and great prices. The company offers policies and plans only to members of the military, former members of the military, and the families of both. There are numerous offerings that USAA brings to the table, including 24-hour roadside assistance. This can be purchased on its own, but also as part of a more comprehensive plan. People can get auto liability insurance, uninsured motorist coverage, collision insurance coverage, comprehensive insurance coverage, and many other types of coverage from USAA.
Keep in mind that if you are not affiliated with the military as listed above, you are not going to qualify for a plan with USAA. Also, the a few of the family members of someone in the military are not eligible for policies from the company. Parents, for example, are not eligible for a USAA policy because their son or daughter is in the military. Descendants, however, are eligible for a plan.
USAA Discounts And Savings
In addition to offering a wide variety of vehicle insurance plans, there are numerous ways to save money on car insurance through USAA, including discounts on plans. One of the most significant discounts comes from bundling multiple types of policies together. USAA not only offers car insurance plans, but also offers condo insurance, life insurance, homeowners insurance, and more. By bundling multiple types of insurance plan together, you can get a discount and pay less on your policy. Also, having multiple vehicles on your policy can help you save money.
User satisfaction at USAA is fantastic, and there are many discounts a person can get to help save. Good student discounts are available, as well as safety feature discounts and more. The financial strength of USAA is Superior, and JD Power Rankings rates the company highly. Discounts can also come from having a good driving record, taking defensive driver education courses, having low annual mileage, and more.
All About Allstate
Allstate is another company that is known for giving high-quality plans at a great price. The company helps people choose the coverage that makes the most sense for them, and you can get free quotes online here at General. People purchasing plans at Allstate have many options that they can choose from. This includes policies that have liability insurance coverage, collision insurance coverage, comprehensive insurance, UIM coverage, underinsured motorist coverage, personal injury protection, and others as well. You cannot only purchase the minimum amount required in your state to drive legally, which you can also get additional supplements to your policy to make sure you are adequately covered.
People should understand that getting the minimum amount of insurance required by law is often not enough to cover more major automobile accidents or accidents involving more expensive cars. Each policy that is purchased will have a limit on it, and the limit is the most on auto insurance provider will pay if an accident occurs. If you are found to be at fault in an accident that costs more than your limit, you may have to pay out-of-pocket. People often purchase more car insurance than the required amounts to better protect themselves. There are also insurance coverages that cover you regardless of who is at fault, another type of plan to consider.
Allstate Discounts And Savings
Allstate offers a plethora of discounts, including some discounts that USAA does not offer. This includes discounts for things like advanced purchase, pay in full, and antilock brake system discounts. The company also offers some discounts that USAA does offer, including good student discounts, discounts for having policies of multiple types, discounts for having multiple vehicles, good driver discounts, and more.
Allstate does not do quite as well as USAA in terms of auto insurance plans in some demographics, but the policies are competitively priced, the financial strength of the company is Superior, and they have great user satisfaction overall. Comparing prices between these two companies is a smart plan, but you will also want to figure out which companies offer plans in your area.
Comparing Car Insurance Rates
Comparing rates for automobile insurance starts with comparing different auto insurance carriers. USAA is a fantastic company and is often ranked number one on many top car insurance carrier lists. Unfortunately, there are restrictions to who can buy a policy from the company. Policies are only offered to people who are members of the military, either active or retired, and their families. Parents of people in the military cannot get a policy, but their descendants can.
People who are looking for a policy should get free quotes from at least three companies, and it is recommended by many to get quotes from five or more companies every few years. Allstate has extensive plans for many demographics. Each car insurance provider uses different formulas to determine a person's premium. Due to this, each company can have different rates on policies, even though the policies may have many similarities. Take the time to make sure the plans you are comparing are more or less equivalent. Comparing a policy with much higher limits to one that has much lower limits does not always give an accurate price comparison, as what is being offered is not the same.
Discounts – USAA and Allstate
| | | |
| --- | --- | --- |
| Discount Type | Allstate | USAA |
| teenSMART Discount | up to 35% | Varies |
| Accident Forgiveness | up to 30% | Varies |
| Defensive Driver Discount | up to 20% | Varies |
| New Car Discount | up to 15% | Varies |
| Multiple Vehicle Discount | up to 10% | up to 13% |
| Passive Restraint Discount | up to 10% | up to 15% |
| Prepay Discount | up to 10% | -- |
| Paid in full discount | up to 10% | -- |
| Early Quote Discount | up to 10% | -- |
| Multiple Policy Discount | up to 10% | up to 9% |
| Low Mileage Discount | up to 10% | Varies |
| Good Student Discount | up to 10% | Varies |
| Good Driver Discount | up to 10% | up to 10% |
| Farm Vehicle Discount | up to 10% | -- |
| EV/Hybrid Discount | up to 10% | -- |
| Anti-lock Brake Discount | up to 10% | Varies |
| E-billing Discount | up to 10% | -- |
| Anti-Theft Device Discount | up to 10% | up to 20% |
| Preferred payment discount | up to 5% | -- |
| Good Payer Discount | up to 5% | -- |
| Student Away at School Discount | up to 5% | up to 20% |
| Senior Adult Discount | up to 5% | -- |
| Paperless documents discount | Varies | -- |
| Driving training discount | Varies | Varies |
| Deductible discount | Varies | -- |
| Family Discount | Varies | up to 10% |
| Utility Vehicle Discount | Varies | -- |
| Vehicle Storage Discount | -- | up to 60% |
| Military Discount | -- | up to 15% |
| Daytime Running Lights Discount | -- | Varies |
| Loyalty Discount | -- | Varies |
Regardless of which company you are looking to purchase a policy from, General gives free quotes for car insurance. Using these, you can find the best rates for liability insurance available, the top prices for comprehensive insurance available, and the top companies to purchase auto insurance plans from. Get a free quote for car insurance today and start saving.