Enter your ZIP Code to get insurance quotes in your area
Washington State Car Insurance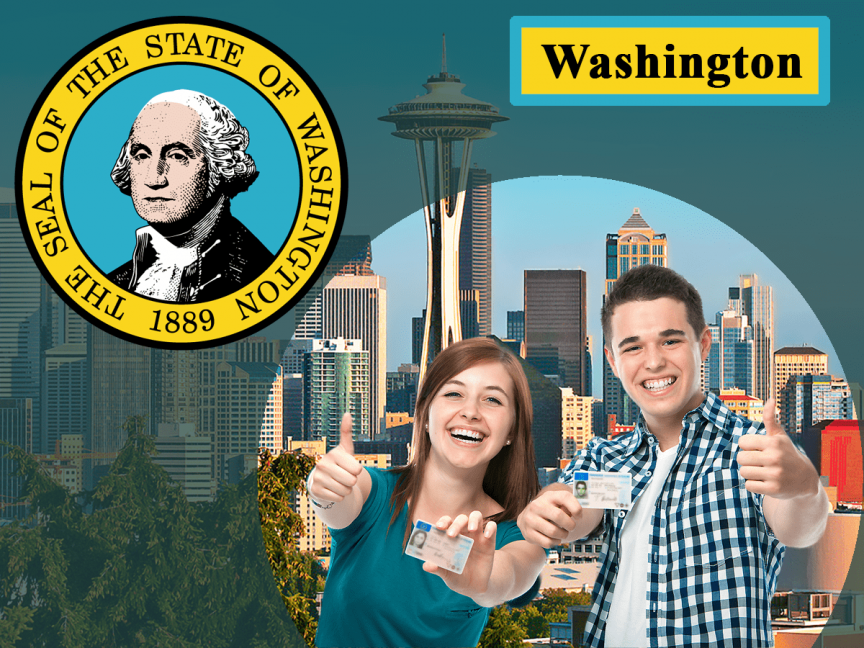 Auto Insurance Basics in Washington
The average cost of an accident where there is no resulting bodily injury is estimated at $3,500 in the United States of America. That's a lot of money to most people. But it pales next to the cost of bodily injury and property damage in a fatal collision, which exceeds $1 million according to the National Safety Council. Nonfatal disabling injuries can cost above $60,000 on average. As you can see from these numbers the cost of an average accident would strain a family's resources but a serious accident would be financially ruinous to most people.
Thankfully, millions of people driver year after year with no collisions. Car insurance is a financial product that, like all insurance products, spreads the risk across a pool of people. With insurance, you pay some money every year and in return you have a policy that can cushion you from much of the expense of a car crash.
Liability insurance offers financial protection if you caused an accident that resulted in damages to another's person or property. But it doesn't cover any losses that you yourself may face. For that, you need collision insurance to cover the cost of your own car repairs. When thinking about collision insurance take the value of your car into account. If you have a new or expensive vehicle you will probably want to add collision insurance to help pay for any necessary repairs. If your car is older you may want to calculate whether the cost of the premium and deductible for the collision coverage is worth more than the actual book value of the car.
If you have health insurance it will probably cover some costs associated with an accident related injury, but you can also purchase Personal Injury Protection or PIP in order to supplement that coverage. If your medical costs exceed any limits on your healthcare policy, the PIP can kick in and offer you additional reimbursements.
You can purchase higher levels of these types or categories of coverage and be covered to $100,000 or higher. Generally speaking, it's a good idea to buy as much protection as your finances allow. You should also factor in what level of deductible you are comfortable having. Many policies have a $1,000 deductible, which means, of course, that in the event you need to make a claim, the insurance reimbursement kicks in only after you have paid the first thousand dollars out of pocket. You can usually get a lower deductible (often $500) if you're willing to pay a higher premium.
Auto Insurance Requirements in Washington State
In recognition of the dangers posed to person and property, most states have mandated that their drivers carry liability insurance as a prerequisite to legally operating a vehicle. Washington State is no different. The state has a Financial Responsibility law that requires drivers to have a set minimum amount of liability coverage in order to drive legally. The minimum levels of coverage are $25,000 for a single person's bodily injury; a minimum of $50,000 of bodily injury coverage for two or more people injured; and a minimum of $10,000 to cover property damage in the event of an accident.
Drivers must always carry proof of their financial responsibility while driving. Just stash your insurance card in your glove box or wallet. Keep in mind that you can be ticketed for not carrying your insurance card.
Average Cost of Coverage in Washington State
Generally speaking, the cost of car insurance in Washington State for a safe driver with good credit is about $1,200 per year or a bit below the national average. This price includes comprehensive and collision coverage in addition to the mandated liability coverage. The average price for the bare bones state mandated minimum can range from $600 to $700 for the good drivers and higher for those with less than perfect records.
Your credit rating will influence the cost of your insurance. Someone with very poor credit may pay up to 50% higher rates than a driver with good credit. The better your credit rating the lower your rates will be. Teenagers will cost more to insure than mature drivers but that is not unique to Washington state. Young drivers have a higher rate of collision than almost any other demographic and insurance companies price that risk into their policies.
| | | |
| --- | --- | --- |
| Rank | Company | Avg. Premium (annual) |
| 1 | USAA | $1,003 |
| 2 | Capital Insurance Group | $1,256 |
| 3 | American Family | $1,397 |
| 4 | Progressive | $1,408 |
| 5 | Farmers | $1,646 |
| 6 | Allstate | $2,013 |
| 7 | Encompass | $2,261 |
| 8 | SAFECO | $2,285 |
Unique Car Insurance Rules and Penalties in Washington State
Washington State follows the At Fault model of auto insurance. This means that the driver causing an accident, the at fault party, in the one responsible for damages. In practical terms that means that the insurance company of the driver responsible for the accident pays for medical and property claims. While the state mandates that every insurance provider include Personal Injury Protection in the policies they offer drivers, you have the right to reject it.
As noted, Washington requires motorists to prove financial responsibility. The vast majority of drivers purchase insurance in order to satisfy the mandate. But you can also show financial responsibility by either depositing $60,000 with the Washington State Department of Licensing (DOL) or by acquiring a bond from a licensed surety company for $60,000. In both of these cases any claims resulting from an accident would be drawn down from the deposit, and the driver would be liable for any claims over and above the $60,000.
Rating Factor
Annual Rate
% Increase
At-Fault Accident
$1,486
23.76%
DUI
$1,681
32.57%
Speeding Violation
$1,331
14.85%
Bad Credit
$2,159
47.52%
How to Get the Cheapest Rates in Washington State
The best way to get cheap auto insurance rates in Washington is to have a clean record of no accidents and no serious moving violations. Safe drivers are low risk customers to insurance companies and enjoy lower premiums as a result. But even safe drivers will find that the cost of the same coverage will vary between providers. That's why it is a financial "best practice" to shop around and compare rates. Get at least three quotes from providers and see for yourself who can give you the best deal. Savvy shoppers will also retest the market every few months. Quotes are free, so diligent shoppers save money. Drivers in Washington should try our free online tool at General.com which will make your shopping easy. A few clicks and you'll be on your way to lower prices.